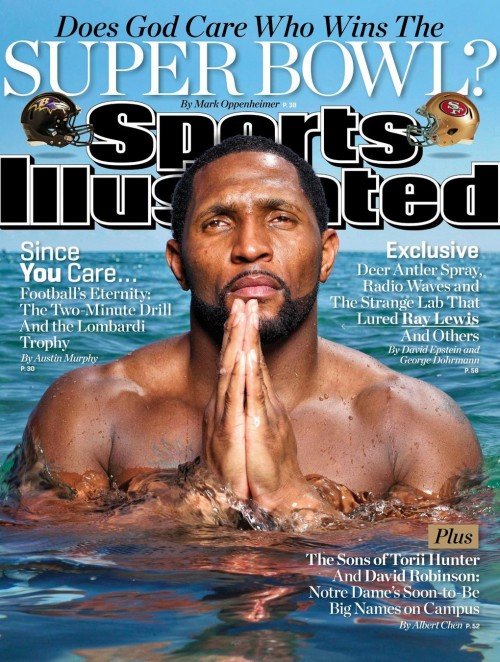 All of a sudden Baltimore Ravens linebacker Ray Lewis is at the center of a banned-substance controversy right before the Superbowl. Earlier today Sports Illustrated talked about Miami-based sports science company "Sports With Alternatives To Steroids" (S.W.A.T.S). The company allegedly provided Lewis with deer-antler velvet extract spray after his triceps injury in October 2012. Deer-antler velvet extract spray — which includes IGF-1, a substance banned by the NFL.
Today at Super Bowl Media Day, he denied the allegations:
"Two years ago, it was the same report. I wouldn't give that report or him any of my press. He's not worthy of that. Next question," Lewis said.
The Ravens organization, meanwhile, says Lewis has never failed a banned substance test:
"Ray has been randomly tested for banned substances and has never failed a test. We have never been notified of a failed test. He has never been notified of a failed test," Kevin Byrne, vice president of communications for the Ravens, told ESPN.
"He denied using the substance discussed in the article, and we believe him," Byrne told ESPN.
Ravens coach John Harbaugh said he has not talked to Lewis about the report.
"Ray has worked incredibly hard to get back. I would hate to see anything diminish that," he said. "My understanding is that he's passed every random substance test that he's taken throughout his career."
For more perspective, here's what Ray Lewis told S.I. when asked about S.W.A.T.S.:
"Nobody helped me out with the rehab. I've been doing S.W.A.T.S. for a couple years through Hue Jackson, that's it. That's my only connection to them."
Ross prescribed a deluxe program, including holographic stickers on the right elbow; copious quanti*ies of the powder additive; sleeping in front of a beam-ray light programmed with frequencies for tissue regeneration and pain relief; drinking negatively charged water; a 10-per-day regimen of the deer-antler pills that will "rebuild your brain via your small intestines" (and which Lewis said he hadn't been taking, then swallowed four during the conversation); and spritzes of deer-antler velvet extract (the Ultimate Spray) every two hours.
"Spray on my elbow every two hours?" Lewis asked.
"No," Ross said, "under your tongue."
Toward the end of the talk, Lewis asked Ross to "just pile me up and just send me everything you got, because I got to get back on this this week."
This afternoon, Scott Van Pelt's radio show featured an interview by the subject of the S.I. piece, SWATS owner Mitch Ross:
First, Ray Lewis is not guilty of using a banned substance. You can't ban a natural occurring substance. You can't ban deer antler. If you ban deer antler, you have to ban steak and milk. Every training camp serves steak and milk. That's the first thing I would to say.
Ray did what he had to do to get back on the field. Ray's not the only athlete that I've recovered as a company…. Sports Illustrated did this story because two years ago — the story Ray was talking about — this product and technology worked so well they wanted to know why the NFL was contemplating banning it, much less having athletes and coaches walking away from an anti-steroid program that they were all endorsers of.