Heavy smoke billowed over Fort Lauderdale from what is believed to be the wreckage of a plane that crashed into a cars at a building near Ft. Lauderdale Executive Airport.
The plane, a Piper PA31 Navajo twin engine plane according to the Federal Aviation Administration, apparently went down at 964 NW 53rd St. in Fort Lauderdale.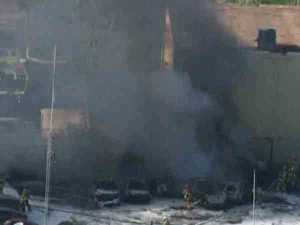 According to Ft. Lauderdale Executive Airport public information officer Chaz Adams, the plane seats 8 passengers and went down near the intersection of 53rd and N. Powerline Road.
Both directions of Powerline Road between Commercial Blvd. and Cypress Creek Rd.
According to CBS4′s Ted Scouten, a source said the plane took off and shortly after that the engine quit and the plane went into a stall and crashed.
Further, Adams said the plane may have been trying to make it back to the airport when it went down.
The plane went into a warehouse, believed to be UK Stone, according to Adams.
The plane went down near the southwest corner of the building.
Chopper 4 showed multiple vehicles near the building were burned out and others were still on fire as fire fighters worked to extinguish the blaze.
It's unknown how many people were on the plane, or if there was