Peyton Manning Out Indefinitely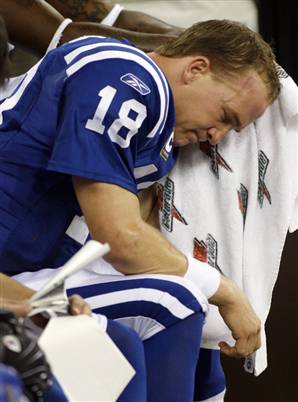 Indianapolis Colts quarterback Peyton Manning is being re-evaluated by several doctors because of the slow progress in his rehab from offseason neck surgery, according to sources familiar with his medical condition.
However, the sources said that no new procedure on Manning's neck is scheduled at this time.
According to ESPN sources, multiple neurosurgeons have been consulted throughout the course of Manning's recovery, but they do not have a consensus reason for the slow pace. The sources added that Manning was still waiting for more information from doctors.
The Colts activated Manning from the physically-unable-to-perform list on Aug. 29 and cleared him to practice on a limited basis. However, sources said Sunday that he has not been able to throw anywhere near his pre-surgery capacity. Manning had been on the PUP list since the team's first training camp practice on Aug. 1 following the May procedure to repair a nerve in his neck.
Manning has started 227 consecutive games, including the playoffs, the second-longest streak in NFL history for quarterbacks behind Brett Favre. Of all the numbers Manning has put up over the years, the streak is the one he has usually said means the most.
I know Farve is sleeping better now he knows his record won't get broke anytime soon.