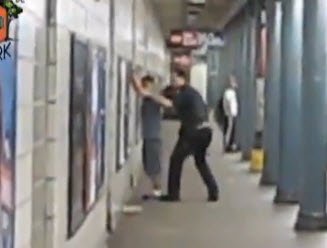 A Brooklyn teenager says an NYPD transit cop body slammed him on a subway platform in an incident caught on videotape.
Sean Pagan, 19, was waiting for a train to Coney Island at the 45th St. subway station near his Sunset Park home when he was confronted by the cop at about 8:30 p.m. Thursday. The video shows that the uniformed cop has Pagan put his hands against the wall and frisks him, but Pagan squirms and complains when he feels the frisk gets too intimate.
The cop reacts by slamming Pagan twice on the ground and putting him in a headlock. The advertising sign Pagan is holding onto is torn from the wall.
"I was just in shock he really did that," Pagan said. "I'm sure there are other kids who got the same treatment or worse treatment that wasn't recorded."