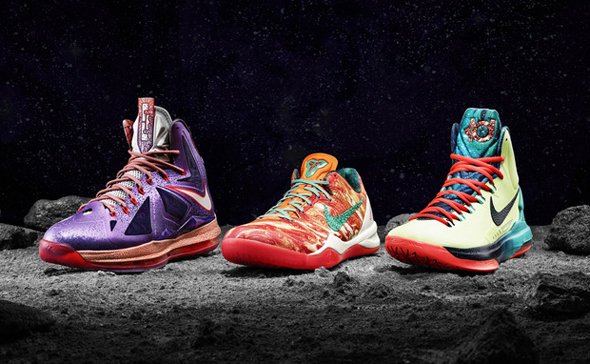 The NBA's biggest stars will be rocking their signature sneakers during the All-Star Game in Houston next month. 
Nike has released images of the All-Star colorways for LeBron James, Kobe Bryant and Kevin Durant, which coincide thematically with the Adidas All-Star jerseys that were unveiled last week. Like the uniforms, Nike's shoes nod toward the city of Houston's ties to NASA and the space program.
The mission control center in Texas, widely know by its radio call sign "Houston," provides the creative inspiration for a special collection of shoes for Nike Basketball's fearless leaders LeBron James, Kobe Bryant and Kevin Durant.

Space exploration defies practical reality. To launch into space on a mission to reveal the unknown can be mind-boggling.  Extraterrestrial species, undiscovered planets, new constellations – there is no limit on the potential for discovery. These unlimited barriers also apply to Nike Basketball's design philosophy – no limits, no restrictions, rooted in exploration and discovery.