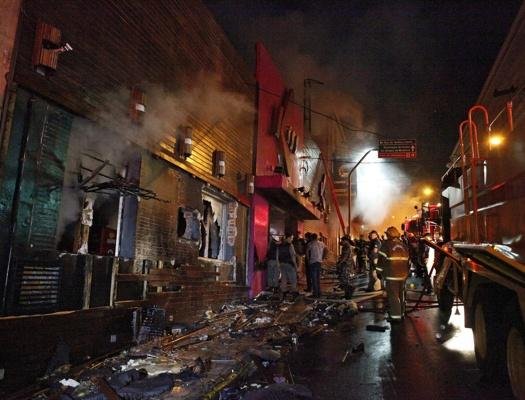 BRASILIA, Brazil — Flames raced through a crowded nightclub in southern Brazil early Sunday, killing more than 230 people as panicked partygoers gasped for breath in the smoke-filled air while stampeding toward a single exit partially blocked by those already dead. It appeared to be the world's deadliest nightclub fire in more than a decade.
Witnesses said a flare or firework lit by band members may have started the blaze.
Television images showed smoke pouring out of the Kiss nightclub as shirtless young men who had attended a university party joined firefighters using axes and sledgehammers to pound at windows and walls to free those trapped inside.
Guido Pedroso Melo, commander of the city's fire department, told the O Globo newspaper that firefighters had a hard time getting inside the club because "there was a barrier of bodies blocking the entrance."
Teenagers sprinted from the scene desperately seeking help. Others carried injured and burned friends away in their arms.
"There was so much smoke and fire, it was complete panic, and it took a long time for people to get out, there were so many dead,"
survivor Luana Santos Silva told the Globo TV network.
The fire spread so fast inside the packed club that firefighters and ambulances could do little to stop it, Silva said.
Another survivor, Michele Pereira, told the Folha de S. Paulo newspaper that she was near the stage when members of the band lit flares that started the conflagration.
"The band that was onstage began to use flares and, suddenly, they stopped the show and pointed them upward," she said. "At that point, the ceiling caught fire. It was really weak, but in a matter of seconds it spread."