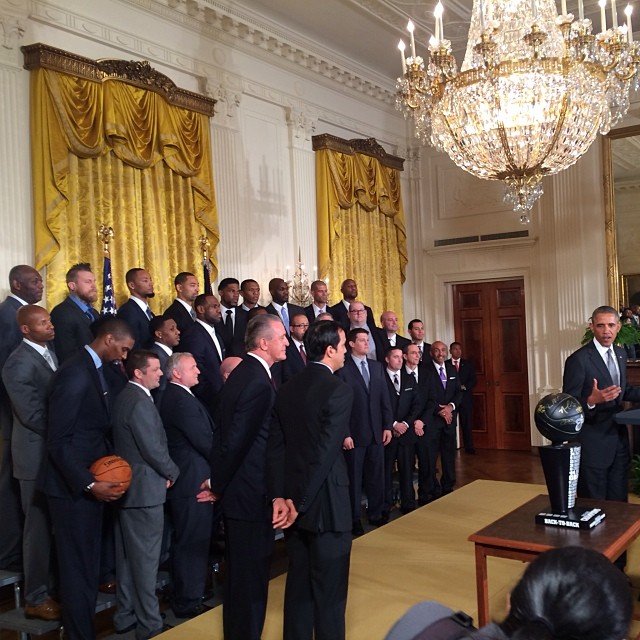 For the second consecutive January, the Heat will enter President Barack Obama's residence on Tuesday, a commemoration of its 2013 championship."It's a very special day," coach Erik Spoelstra said. "You get to be a kid again. When you have an opportunity to visit the White House and spend some time with the President, when our families are so excited to go, you realize that most people never have this opportunity in their lifetime. It's a continued celebration for what we accomplished last year."
Norris Cole captured the sentiment of teammates when he noted: "It's never going to get old for me."
Or, as Chris Bosh said of the White House: "It's a fortress. To be in the most powerful building in the world is pretty cool."
Tuesday's visit will be the highlight of an unusual six-game road stretch that began with losses in New York and Brooklyn, included a three-day detour back in South Florida, and resumes Wednesday in Washington before games in Philadelphia, Charlotte and Atlanta.
"Whenever you go to the White House, it's special. I don't care how many times," Dwyane Wade said. "Our president is a very personable guy. He loves the sport that we play."
For some Heat players, one of the most meaningful moments during last year's visit was the 30 minutes spent alone with the president, away from the cameras, before the public ceremony.
"He spent 30 seconds to a minute with every one of us, which I thought was an incredible touch," Spoelstra said. "He has an incredible feel with people. He mentioned one of his favorite players was [Heat assistant coach Bob] McAdoo."
Wade said that private time with Obama is "a cool moment and you really get to relax and be yourself."
Unlike some of his teammates, Wade was able to poke his head in the Oval Office during last January's visit.
"The Oval Office is one of those things that on TV looks huge," Wade said, "and then when you get in there, you're like, 'This is where all that magic goes down?' ''
Bosh said that during those few private moments with the president, "you never really get to talk about what you want to talk about. He's going to ask you something, you [answer]. … He asked me about my kids [last year] and that was it."
A White House visit comes with many decisions. For Cole, it's mulling whether to muster the courage to ask for a picture of himself and the president — just the two of them.
For Beasley, it's what to wear, a decision he was still considering late last week. "I don't want to be too over the top," he said.
Several have had personal exchanges with the president, even before last year's visit. "We have that Chicago connection, and all the times I have been able to talk to him, that connection comes out," Wade said.
Obama spoke at Cleveland State when Cole was a student: "He said something about my high top, said, 'That kid can play.' "
Beasley met Obama at a campaign event before Beasley's rookie season. "He shouted out my college stats," Beasley said. "That was pretty cool."
Bosh's goal for this trip? "Go in the Oval Office, see some top secret stuff or something."
What is strange about these trips is that Lebron's fiance Savannah never attends the meeting like the rest of the teams wives.