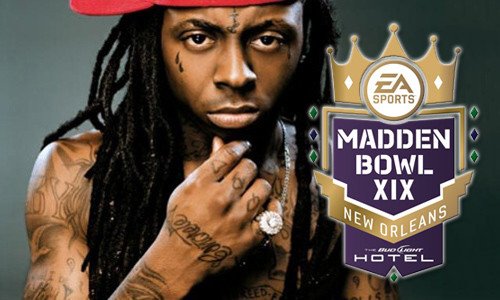 In a recent interview about Madden Bowl XIX, EA Sports Sr. Director of Marketing Anthony Stevenson announced that the party would have musical performances by Lil Wayne, Big Boi, and Vintage Trouble.
The 19th annual Madden Bowl party is two weeks from today (the 31st) in New Orleans.
"We are going to headline with Lil Wayne. When you think of New Orleans, Lil Wayne comes to mind. I have no doubt that he'll set it off right for the entire crowd there. We talk about Madden as being like this bridge between athletes and entertainers. We try to go with athletes an celebrities who people are really gonna love and and also appeal to that core fanbase and demographic. Madden intersects very well with Hip Hop culture, so we're happy to have Big Boi and Lil Wayne there, as well as Vintage Trouble with a unique Rock flavor to the event."
Of course, aside from all the music and whatever things people do at huge private parties, the prestigious Madden Bowl itself will be taking place. No word yet on which NFL stars will be competing in the tournament, but it was revealed that the games will once again be played in a 3 versus 3 Online Team Play format according to gomadden.
"Last year was unique. we had the team setup. These guys are used to playing on teams. It is a much cooler dynamic to watch Tim Tebow take charge of the "virtual huddle" in the 4th quarter to lead that comeback to literally have "Tebow Time." You gotta remember that this time last year Tebow just came off the playoff win. To see him with one of the best quarterbacks in the league in Drew Brees and sort of Drew taking the lead from Tebow as they have this comeback – it was really cool to see that. So we realized that the team format is definitely the way to go. So we'll have the same thing going this year. We'll have the four teams battling it out in a Semi-Finalist round, and then the Championship Game to see who is crowned the winner."
Madden Bowl XIX sounds like a party we need to be at..