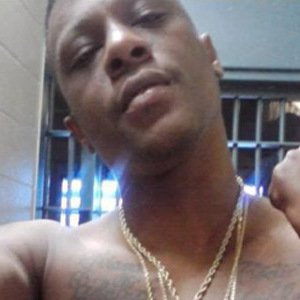 Before you get to Isaac Franklin's former farmland, the two-lane road dead-ends. Coils of barbed wire slash the swollen Southern air. A brick placard reads: Louisiana State Penitentiary, Burl Cain — Warden. There's a beige turret fringed by pink wild flowers. A 10-mile arc of levees rimmed with quicksand. A two-story fence blocking jaws of tangled brush. There are 5,100 prisoners here, 86 percent of whom are violent offenders — three-quarters of whom are serving life sentences on this converted plantation, named after an African nation from where slaves were imported: Angola.
This is where the Lomaxes, chain gang folklorists, discovered Leadbelly. This is where the Dead Man walked, and where former No Limit star C-Murder stares down a life sentence; where the questions at the crossroads become those of the condemned. This is where Lil Boosie, Louisiana's most beloved and respected rapper sits, indefinitely.
Boosie, born Torrence Hatch, inmate #560699, has been imprisoned in Angola for the last 38 months. No one can give you a straight answer on when he might get out. Not the warden, not his attorneys, and definitely not the websites that have been reporting that he's due home in February. His counsel, New Orleans attorneys Jason Williams and Nicole Burdett, estimate that he could be released this summer, at the earliest. The more pessimistic projection is sometime in 2014.
He's currently serving an eight-year bid for conspiring to smuggle in marijuana, Ecstasy, and the ingredients to make codeine. This occurred in May of 2011, while he was awaiting trial for first-degree murder, a charge he beat in May of the following year via a unanimous Baton Rouge jury. The question is: When will he be free? Since his trial ended, Boosie, 30, has been forbidden to talk directly to the press. Even his post-acquittal statement had to be delivered through his lawyers. When I attempted to gain permission to enter Angola last June, prison officials refused the request.
But I was able to send questions to Williams and Burdett. Boosie's answers were then relayed back to me. In them, he touched on everything from his thoughts of his trial, to his treatment at Angola, to his plans upon release:
"I've coped by knowing in my heart that I'm someone special who many people love. If you lose hope in yourself, you'll make your time hard. I always felt that my mission wasn't complete. I feel I haven't reached the star power that was destined for me," Boosie wrote. "That makes me keep writing and thinking of ways to better myself as a man and artist. When it feels like the world is on my shoulders, I look at my pictures from when I was free and it gives hope and determination to pushing."
It's impossible to convey the bond that Boosie has with his fans, clustered largely in the South, inner cities across America, and anyone who can sympathize with his struggle, which encompa@$$@ poverty and violence, bootleggers and diabetes. His music is savage and heartfelt, full of pain, drugs, and death.
The Free Boosie Twitter account has over 133,000 followers. The Boosie Quotes Twitter has another 100,000. When L.A. rap stars Y.G. and DJ Mustard were credited with the rise of "ratchet music," they explained that it started with Boosie. When Trinidad James was asked what he planned to do with his Def Jam advance, he said he wanted to use it to make an EP with Boosie.
In Baton Rouge, Boosie worship is absolute. It's something like the feeling for Tupac in L.A. or Biggie in Brooklyn. Whether you're at a Tigerland bar filled with collar-popping frat boys in pineapple Polos or an all-black club across the river, everyone knows every word to Boosie's hits — LSU sorority girls can transition seamlessly from "Call Me Maybe" to his "Set It Off."
DJ Ya Boy Earl, one of the biggest DJs in Louisiana and a host on 94.1 MAX-FM describes Boosie as being like family to almost everyone in Baton Rouge. Within the parish, he's known for his philanthropy (stay-in-school programs, turkey giveaways) almost as much as he is for his music.
"Everyone around here thinks Boosie's going to get out any day. People are always talking about it. They feel like he's their brother," say Earl. "I think he's going to be the biggest artist in the game when he gets out. There aren't many rappers on Boosie's level who can say they beat a murder charge. No one reps the streets the way that Boosie did. That's why he continues to get so much love."
Houston legend Bun B, who along with his UGK partner Pimp C, was one of Boosie's earliest supporters, says that the latter represents the rawest side of the streets.
"Boosie is a mirror: Lots of people live their life with similar abandon and his realness gives a voice to people from his world," Bun B says. "People who love him are going to love him even more. His spot is waiting for him in the rap game and the streets. It's not a spot that anyone can lay claim to or take."
One of the most controversial aspects of the murder trial was the prosecution's use of Boosie's music to try and establish a sinister frame of mind. He was accused of hiring 17-year-old Michael "Marlo Mike" Louding to shoot a man named Terry Boyd, who had been recently released from the penitentiary following a rape conviction. During the three-week court case, the jury heard Boosie tracks like "187″ and "Bodybag."
"The state painted my music wrong," countered Boosie. "My music is violent, but not all of it. I have songs about God, my kids, and telling other people's kids to chill out and go to school and do right. My violent music helps most kids avoid that street life because it scares them. My fans aren't blind to the consequences."
There's also a caustic politics to his music. Shortly before his original incarceration in late 2009, Boosie recorded his own "Fuck The Police" and other songs attacking the Baton Rouge District Attorney's office. His flashy lifestyle and celebrity didn't do him any favors. Boosie is probably the most divisive and loved figure to come through the city since Huey Long — and the most successful since Shaq. During jury selection, you could scarcely find a candidate under the age of 30 who didn't admit to bumping his music.
"When you get a black man who does more for the community than the public officials, people in those positions don't like it. When you're a black man living in homes they can't afford, they don't like that," Boosie argued. "I was like a bug who didn't want to go away for them. You turn on the radio you hear me. You turn on the TV you see me. When they heard their kids singing my songs that irritated some people."

"In Baton Rouge, blacks have always been looked at differently from other races, and the blacks who are fortunate, don't express themselves like I do. I don't hold my tongue for nobody," Boosie continued. "If I feel somebody is doing people wrong, I'm going to rap about it. For me to come out of one of the worst neighborhoods in Louisiana, South Baton Rouge, and to become successful off music they don't agree with, puts hatred in people's hearts. So when they got a chance to shatter my image, they tried everything in their power to turn me into a straight bad guy, a monster. It was crazy."
Before first going to jail in November of 2009 for a third-offense marijuana charge, Boosie amassed one of the deepest catalogs of any rapper during the last decade. Though his only major national hit came from his appearance on a 2007 remix of Foxx's "Wipe Me Down," each of his three records for Asylum sold hundreds of thousand of copies. (He also released music via independent Trill Entertainment and his own mixtapes.) Not long before he was locked up, he bragged that he had a "Beatles catalog" of unreleased material to hold over fans during his absence. But the state confiscated his hard drives and won't return them until Louding's trial is concluded. Whenever that may be.
While unable to access a studio, Boosie maintains he's been feverishly writing.
"I have about 500 songs at the moment. I'm ready to get in the studio with the best producers. I feel that I'm making the best music I've ever made. The more I go through in life the better my music gets and it's been crazy the last three years," Boosie reported. "I keep my music heartfelt and stick to making real music. I wouldn't even say it's hip-hop music. My music is 'reality rap.' Hip-hop music can make you dance and bob your head, but it can't make you cry or touch your heart like reality rap."
Boosie has reluctantly settled into his Angola routine: Insulin shots for his diabetes at six in the morning and three in the afternoon, then work and songwriting. At night, he writes letters to fans and reads his Bible, as well as the occasional rap magazine or novel. He's also begun a memoir: The Truth, No Lies.
"It's my life story from when I was born to the present day," the rapper revealed. "I just felt the world needed to hear my life story so those who don't understand certain things that I rap about, like the struggle, will understand that it's the struggle that made me who I am today. I want people to know that it's bigger than rap with me. I have a good heart. I want people who never took the time out to listen to me, to give me a chance.
There have been darker moments during the incarceration, including clashes with the infamously brutal guards.
"It's been hard at times. Some guards hate me with a passion and it shows in some of the things I've been told and called. Some guards come to work full of hatred for inmates. I think they do that because their household is miserable or they're just tired of working," Boosie reasoned. "When I first got here, I was a ticking time bomb. I've been done bad by some guards, but there's people here who have been done worse. They do have some cool guards here though. As far as inmates, I'm respected. It's just like the streets — the real respect me and the fake are Boosie haters."
The hardest part has been coping with long stretches away from his mother and seven children.
"I miss my family the most … my little boy waking me up and playing with my eyes … shopping for my little girls … being a daddy … being a son to my beautiful mama," shared Boosie. "I miss my family having barbecues and all of us together laughing. The money, the fame, and the things that you get off success, I miss none of that like I miss being with my family."
His goals upon release include: a record deal with a major label, distribution for his Bad Azz Entertainment imprint, a clothing line, magazine, cartoon, energy drink, endorsem**ts, a diabetic foundation, and to keep giving back to impoverished communities. He also wants to start a program to help the wrongly convicted and launch a company to publish writing by prisoners.
"This experience has made me a lot wiser and to cherish life more. I've become more business-minded. I've become more focused on myself than others. I feel I've become a better son, father, brother, and I listen more than I used to,"
Boosie said.
This month, his lawyers filed a motion to find out how much longer the state plans on keeping him in jail. It's not an easy calculus and the local penal system is slow. The question is whether officials will determine that his eight-year sentence began in November of 2009, when he first entered prison, or May of 2011, when his murder trial began. There's also the hope that time will be reduced as a result of his good behavior and earning his GED.
Whether he's released this year or next, Boosie will still only be in his early 30s when he gets out, the prime of his career, with a raw story of redemption to tell.
"I'm just blessed to get another chance at freedom. Life dishes what you least expect at the time you least expect it. The test is how we respond to it," vowed Boosie. "This situation forced me to look at things differently. I had to suffer to learn things about myself, those surrounding me, and God. He put me through this pain for me to come back stronger."
Source: SPIN