Killer Mike Names His Favorite Top 5 Atlanta Strip Clubs + Killer Mike Ft T.I & Big Boi – Ready Set Go (Remix) Video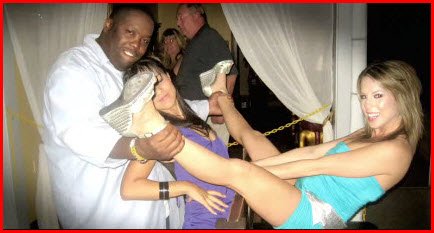 Showing love to his favorite gentlemen's clubs, Atlanta rapper Killer Mike has revealed his personal Top 5 strip spots.While focusing primarily on Atlanta spots, Mike named spots including the legendary "Magic City" venue.
Blue Flame 1097 Harwell Road Northwest Atlanta, GA 30318: It's the Triple A farm team for Magic City beat deal in town for 5 dollar lap dances.

The Foxx*y Lady 1635 Moreland Ave Atlanta, GA 30316: 5 dollar dances guess with huge a**es but all the Killers go there. You better be official or risk getting robbed.

Kamal's 21 1905 Piedmont Rd NE Atlanta GA, 30324: The model for the Grind Time Official Our Lady CD @anisetai works there and she is fine as a MOFO. Bring ya bank roll you will spend it.

Magic City 241 Forsyth Street Southwest Atlanta, GA 30303: The pros, baby. Fat a**es and beautiful faces. It's like the Ms. America pageant only nude with much finer women. Big money spot so don't go broke.

Goosebumps 134 Baker Street NE Atlanta, GA 30308: My girl likes the chairs and all the dancers love her so I end up paying and she gets all the stripper love I long for."
(XXL Mag)
Killer Mike Ft T.I & Big Boi – Ready Set Go (Remix)
Mike Bigga (Killer Mike) ft. T.I. & Big Boi – Ready Set Go (Remix) from Motion Family on Vimeo.
Newest message board posts:
(Pics) Alicia Swizz 2 of his sons in NYC this weekend
Halie305-Miami's Finest Pt.II
Third graders at Astoria elementary school surf po***graphic pictures on school comps