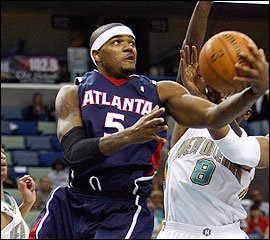 The Detroit Pistons have agreed on a four-year, $56 million contract with free-agent forward Josh Smith, sources told ESPN.com.
Smith's agent Brian dy** confirmed the signing to ESPN. Smith had also considered a return to the Atlanta Hawks and the Houston Rockets. The Pistons intended to make a splash in free agency and targeted Smith from the first moments of free agency this week.
Smith looked at several other options in free agency, as did the Pistons before coming to terms. His signing won't become official until Wednesday. As of now, the Pistons are not involved in a sign-and-trade with the Hawks, whom Smith is leaving after nine seasons, sources said.
Smith averaged 17.5 points, 8.4 rebounds and 3.8 assists for the Hawks last season.