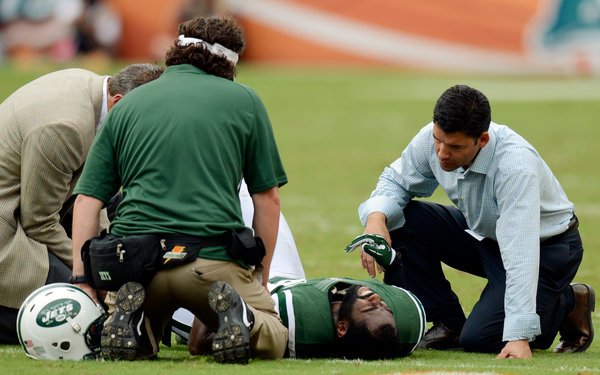 Jets fans don't have much hope about going to the playoffs now that Darrelle Revis down for the rest of the season.
Just a few days ago, Rex Ryan stood behind a podium in the Jets' interview room and spoke of the peace of mind he felt with cornerback Darrelle Revis back from a concussion. On Monday afternoon, Ryan stood in that same spot, his face ashen, as he announced that Revis tore the anterior cruciate ligament in his left knee in the third quarter of the Jets' 23-20 victory against Miami, an injury that registered a devastating impact on him and the team.
With Revis, who will have surgery within the next three weeks, all but guaranteed to miss the rest of the season, the Jets' hopes of winning their division, of reaching the playoffs, were dealt a severe blow. Ryan said he learned of the extent of Revis's injury five minutes before the noon news conference, and though he was not surprised — "I talked to Darrelle on the plane, and I could tell; he felt that it was a significant injury, obviously," Ryan said — he still seemed shaken by the news.
Ryan would not declare outright that Revis would be placed on injured reserve, but he seemed resigned to forging ahead without his best player.
"This is something that we have to overcome as a football team,"
Ryan said.
It will not be easy. The Jets have two talented cornerbacks in Antonio Cromartie and the former first-round pick Kyle Wilson, but the team's aggressive, blitzing defense is predicated on Revis's neutralizing the opposition's top receiver. With Revis shutting down that receiver in single coverage, effectively eliminating a huge swath of the field, the Jets use their other defensive backs to help in other areas, whether providing double coverage or blitzing or prowling another section of the field.
Ryan said he was taking Revis's injury as a "personal challenge," as motivation to devise coverage schemes that would maintain the effectiveness and intimidation of their secondary. The Jets will almost certainly have to consider a more conservative approach, as they did last Sunday when Revis was out against Pittsburgh.
"Maybe we play some opponents differently," Ryan said. "There's different ways to skin a cat. You can't just take away their best receiver with one guy. Again, we'll find a way."
Ryan suggested that they could achieve a similar effect by increasing their pressure on the quarterback, mentioning how his father, Buddy, coached teams in Chicago that harassed the quarterback despite an anonymous secondary. But the Jets are not the 1985 Bears, having managed only three sacks — and 10 quarterback hits, 5 over their last two games. Losing Revis sends ripples through the Jets' defense, a unit that has so far struggled to stop the run, allowing 148.7 yards per game, and in third-down situations, allowing a 55.8 percent conversion rate.
Ryan spoke of the Jets' resilience, of how they can — and will — overcome this "big disappointment." But there is no denying just how much Ryan and the Jets will miss him.
"I don't know what else to say about it,"
Ryan said. NYTIMES