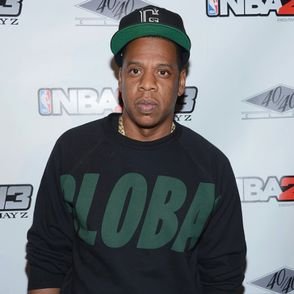 Saturday night Jay-Z will be hosting a lavish Super Bowl kick off party for D'USSÉ Cognac.
DJ Jus Ske will be providing the musical entertainment at the Republic New Orleans party in the Warehouse District.
The music mogul will be celebrating ahead of wife Beyoncé Knowles' performance at the annual American football event.
The 31-year-old is gearing up to sing at the championship, but the honour of performing will apparently see her splash out "hundreds of thousands" of dollars, according to British newspaper the Daily Mail.
The National Football League (NFL) pays only production costs, which are around $600,000, for the halftime show.
The singer has to come up with the rest of the cash herself.
However, the deal won't see her out of pocket, as the star will make money thanks to the free advertising the show provides for her music.
The savvy diva has also signed a $50 million deal with the show's sponsors Pepsi, which will bring in some more money.
"Beyoncé will not get paid, but her back-up singers, her musicians, all the extras – they will be paid by the NFL production budget," Marc Ganis, president of the consultancy Sportscorp Ltd., told the publication.
"But last year, for Madonna's show, the budget certainly exceeded the budget the NFL gave her, and that will almost certainly be the same this year. This means the artists have to pay the difference out of their own pocket – it won't be the act themselves, but their business side. Their record label, or even Pepsi could fund it for Beyoncé."
Beyoncé's sister Solange will also be partying over the weekend, as she DJs with Diplo at the Audi After Hours bash on Saturday.
Justin Timberlake will appear in his first concert in more than four years the night before the Super Bowl.
Timberlake has signed on to perform during "DIRECTV Super Saturday Night," held Feb. 2 in New Orleans.
The singer recently released a new single, "Suit and Tie," featuring Jay-Z, and will release new album "The 20/20 Experience" later this year.