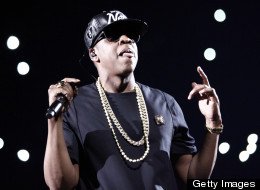 Hov is reportedly the latest star to attach his name to the upcoming film adaptation of "The Great Gatsby." According to Jeymes Samuel of The Bullitts, he and Jay-Z will be writing the score for "Gatsby."
If you seen the commercial for The "The Great Gatsby" trailer then you know already Hov has his hand in some part of the movie. The opulent lifestyle of Jay Gatsby (Leonardo DiCaprio) was set to the pumping beat of Jay-Z and Kanye West's "No Church In The Wild" — take a look in the video above.
Cast members also leaked in April that director Baz Luhrmann played Jay-Z music on the set of "The Great Gatsby." "On my first day he had Jay-Z pumped up full, and we did the entire scene with, you know, Jay-Z in our ear on full blast while acting, and it was just so liberating," Isla Fischer told MTV.
Samuel announced the news on his Twitter account.
Quote:
@TheBullitts
THE BULLITTS
Jay-Z and myself have been working tirelessly on the score for the upcoming #CLASSIC The Great Gatsby! It is too DOPE for words!
December 30, 2012 11:35 am
"The Great Gatsby," which stars DiCaprio, Fisher, Carey Mulligan, and Tobey Maguire, hits theaters May 10, 2013.