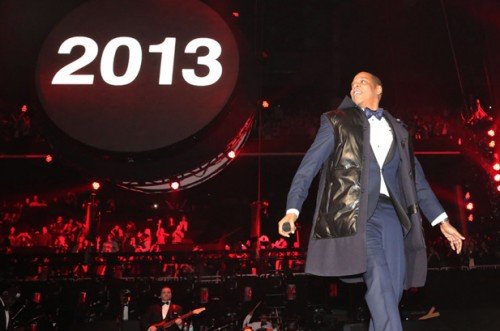 Last night the Jigga man rocked the sold out crowd with the help of Chris Martin and friends in New York to see in 2013. And they did it B.I.G downing around $250k of drink as they went along.
The concert — dubbed the Coldplay Holiday Party — was held at the Barclays Center, the home of the Brooklyn Nets basketball team owned by Jay-Z.
But guests including Gwyneth Paltrow and Beyonce wouldn't have been queuing at the bar because Jay-Z handled the entire tab. Cheryl Cole and her dancer boyfriend Tre Holloway were also among the crowd, before they headed for the after-party later on.
And Jay-Z refused to hold back on the free bar, either. He had a private lounge — nicknamed The Vault — which was specially kitted out for the occasion.
Inside the VIP area was a wall created from hundreds of bottles of Armand de Brignac Brut Gold — worth more than $300 each.
Jay-Z also had a 30litre bottle of Armand de Brignac Midas Gold bubbly brought in for the night. It was more than 4ft high, weighed about 100kg and took two burly blokes to lift. Before they could get stuck in to the booze, Jay-Z and Chris played to a sell-out crowd.
After finishing up at the Barclays Center, the rapper and 15 guests headed off to the Spotted Pig restaurant where they enjoyed some traditional British grub. They later went to his 40/40 club, which was open till 4am.