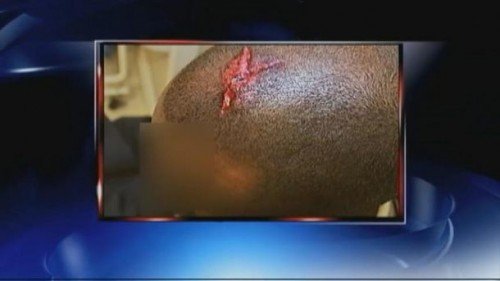 Gucci is in trouble with the law once again. The Atlanta Police has issued an arrest warrant against Gucci Mane for assaulting a solider last friday night.
James, who serves in the army and returned home from Afghanistan last October told Channel 2's Amy Napier Viteri that he was just looking to get a picture with Gucci Mane when the rapper attacked him with a champagne bottle in the VIP section of Harlem Nights club in Atlanta.
"I'm in the military. I wanted to get a picture with Gucci Mane, is it OK?" James said he asked the security guard. "I was speaking to the security guard, and Gucci Mane hit me in the head with a bottle. And as I looked at him in the shock of why, one of his friends hit me in the side of my face. He could have possibly killed me. I just hope and pray that I recover pretty well because I still want to serve my military career".
James visited Grady Memorial Hospital by ambulance where his injury required 10 sti*ches. He had a concussion and is suffering from bad headaches.
Says Lt. Jeff Cantin of the Atlanta Police Department:
"We do have an active warrant for Mr. Davis for aggravated assault. So I'm sure after he sees this, I'm sure he'll want to reach out and contact us."