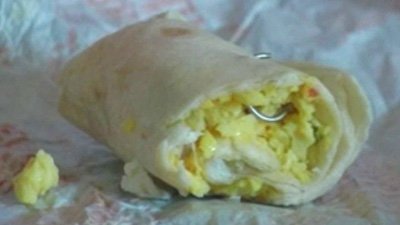 A Georgia woman is demanding answers after she claimed to have found a nose ring in her four-year-old daughter's breakfast burrito from McDonald's.
Frances Rosario of Lawrenceville, says she visited a local McDonald's on Wednesday morning and ordered two burritos.
When she returned home and opened the burritos, she noticed something wasn't quite right with her daughter's meal.
Rosario says she immediately called the McDonald's to report what happened, but she claims they told her "it happens."
She then tried to contact the corporate headquarters but says they have not returned her calls. The owner of the McDonald's in question put out a statement saying they are investigating the incident.