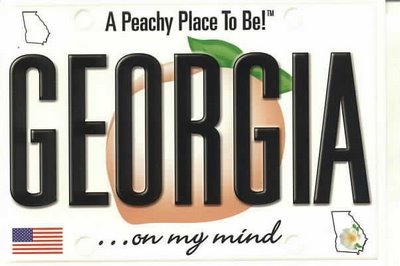 A Georgia man is suing the state's driver services department, saying it violated his consti*utional rights by denying his application for a vanity license plate reading: "4GAYLIB," "GAYPWR" or "GAYGUY."
Atlanta resident James Cyrus Gilbert told The Atlanta Journal-Consti*ution he was not asking for something "vulgar or over the top" when he made the request in his vanity plate application. These three combinations are on a list banned by Georgia, the newspaper reported. However, the state has reportedly approved plates with some political or religious expressions in the past.
"Denying someone the right to put gay on their tag, that's political," Gilbert told the Journal-Consti*ution. "If I want I could get a tag that said straight man, but because it had gay on it, it's not available."
The lawsuit, filed against the commissioner of the Georgia Department of Driver Services, seeks approval for the requested vanity plate, nominal damages and attorney fees, as well as a court order saying the state regulation for vanity plates is unconsti*utional, the newspaper reported.
An The AJC reported it made an an**ysis that had found inconsistencies in the state's vanity plate approval process. For example, the newspaper found that state officials denied "G0DROKS" and "ILUVGUNS," while "G0D4EVR" and "GUNLUV" were approved.
"Really these license plates are one of the primary ways Georgians use free speech," Gerry Weber, a lawyer working on the suit, told the newspaper.
The First Amendment to the U.S. Consti*ution protects freedom of speech.States around the country issue personalized "vanity plates" for additional costs, but they generally must meet various guidelines. Residents in Georgia can indicate three combination choices on the state's "prestige license plate" application and must describe the meaning of each.
In 2009, a Colorado woman who said she was a vegan was denied the vanity plate, "ILVTOFU," The Associated Press reported. But in that case, officials claimed the letters could be misinterpreted.
New Forum Posts: