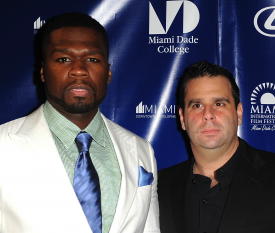 50 Cent continues to win in the business world.. he adds another venture to his resume. According to Deadline
50 Cent is getting animated. I've learned that Fox is in negotiations for an animated comedy project from the rapper-actor (born Curtis Jackson), feature producer Randall Emmett, and Imagine TV. The unti*led project, loosely based on Jackson's childhood, is expected to receive a pilot or presentation order. Written by Carl Jones, it follows a mischievous but well-meaning boy who often tangles with his eccentric family and neighborhood. Jackson, Jones, Emmett, Andrew Jameson and Imagine TV's Brian Grazer and Francie Calfo executive produce.

He will next be seen in The Frozen Ground and The Tomb. The 50 Cent project builds on Emmett's momentum in television. 50 Cent and Emmett, who are producing partners at Cheetah Vision, are also executive producing Power, a drama project about a criminally-inclined New York nightclub owner, which is in development at Starz. Additionally, Emmett/Furla Films, Emmett's company with George Furla that backs mid-budget feature films, launched a TV production division last spring. The unit's first project, action drama Rescue 3 starring Dolph Lundgren, premieres next fall in primetime on the Tribune stations, which gave it a two-season pickup.