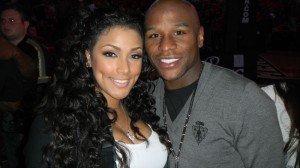 Boxer Floyd Mayweather, Jr. has no problem spending money on lavish gifts.
The undefeated boxer allegedly bought his fiancee Shantel Jackson a $16 million dollar diamond called 'The Heart of Eternity' for Christmas.
The Heart of Eternity is a blue diamond that measures 27.64 carats. It is one of the rarest blue diamonds in the world, which is only found in the Premier Diamond Mine of South Africa.
That sounds like a lot if you don't factor the fact Pay-per-view sales for Floyd Mayweather's May fight against Miguel Cotto topped $94 million dollars, and Mayweather personally raked in well north of $40 million. Floyd made $4.3 million in 2012 just off of betting.