Dez Bryant Surprises Those In Attendance At "Men Against Abuse" Rally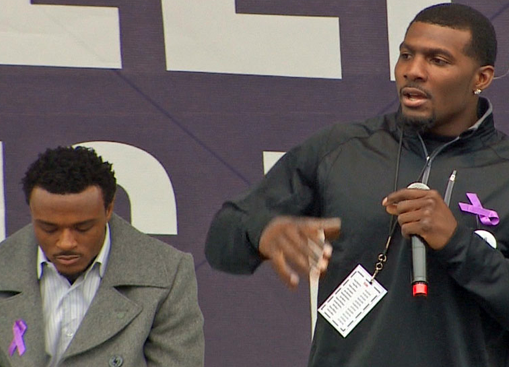 You may recall the story that came out sometime ago of Dallas Cowboys wide receiver Dez Bryant being involed and arrested for domestic violence for allegedly hitting his mother. Since then that issue has been pretty quiet and no charges were filed.
The wide receiver however stepped up this Saturday to share with those in attendance a speech on domestic abuse and his stance on the issue. Former Cowboy Emmitt Smith and some current players were also in attendance including Brandon Carr who said he was unaware of Bryant coming to the event.
"It was surprising," Carr said. "It shocked me but he came and supported. Dez got up and was able to give his spiel and his talk. It's a humbling experience to see your teammates come out and support you and they had the same issues going on in their lives. For Dez to get up here in front of all these people and admit his mistakes and to be with us in this rally and take stand against something he was a part of, that speaks volumes."
After the event, Bryant only wanted to talk about football, saying: "Here's all you need to know. I'm done with domestic abuse."