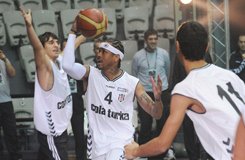 Allen Iverson is 37 years old and not playing in the NBA compared to Kobe Bryant, Steve Nash and Jason Kidd who are all in his age range.
If the Texas Legends have their way, Iverson could be on his way back into the NBA via the D-League. Marc Stein reports:
The Texas Legends are lobbying Allen Iverson to try work his way back to the NBA by playing for the Dallas Mavericks' Development League affiliate, according to D-League sources.

Sources told ESPN.com that the Legends, who are co-owned by Mavericks president of basketball operations Donnie Nelson, ramped up their seasonlong pursuit of Iverson on Monday, offering him the chance to resurrect his career.

Iverson has likewise resisted the Legends' overtures so far this season — as well as a similar offer last season — but sources say that the Legends are trying again now because they've moved back to the top of the list in the D-League's waiver line, meaning they'd have an unobstructed path to signing Iverson if he could be convinced to put his name in the D-League's player pool.
Iverson hasn't played in an NBA game since Feb. 20, 2010, when he scored 13 points on 5-of-13 shooting for the Philadelphia 76ers.