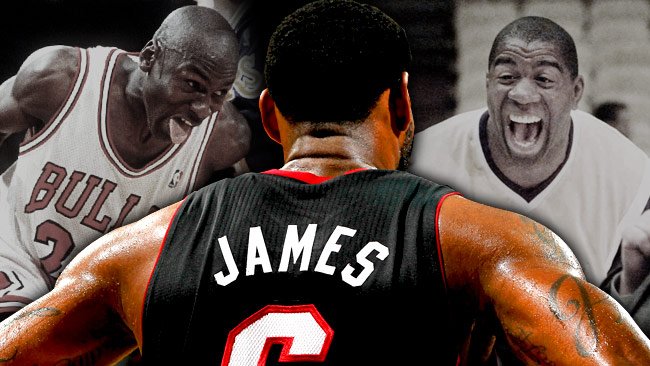 OAKLAND, Calif. – LeBron James, 28, became the youngest player in the history of the NBA to score 20,000 points when he hit a floater in the lane late in the second quarter at Golden State on Wednesday night at Oracle Arena.
In a symbolic reminder that he is the farthest thing from a one-dimensional scorer, James – who has been assaulting the record books since he was drafted first overall by Cleveland in 2003 out of St. Vincent St. Mary High School in Akron, Ohio – also surpassed the 5,000-assist mark against the Warriors. By doing so, he joined a club that – according to Basketball-Reference.com – has a total of 13 members. James surpassed the 5,000-rebound mark last season, and is now one of 11 players in the 20,000-point, 5,000-assist ,5,000-rebound club.
Thirty-eight players have reached the 20,000-point mark in all, with seven of them active (including James' 37-year-old teammate, Ray Allen, who entered play with 23,336 points). James' 5,000th assist came midway through the first quarter, when he found Dwyane Wade for a dunk that put the Heat up 8-7.
His scoring was versatile as always – a converted alley-oop via Wade from midcourt early, a three-pointer atop the key late in the first quarter that stretched the Heat's lead to nine, and a stepback 17-footer that gave him 17 points and put Miami up 41-29 with 4:24 remaining in the second quarter.
James – who was the youngest player to be drafted No. 1 overall in 2003 at 18 years old, the youngest to win Rookie of the Year, and the youngest to score both 1,000 and 10,000 points – has long since cornered the market on becoming the youngest player in the game's history to achieve such feats. He is marching past the milestones in what is already a remarkable career.
"I'm not really a numbers, milestone guy," James insisted to USA TODAY Sports after the Heat's shoot-a-round at the University of San Francisco on Wednesday. "As they come up on me, I live in that moment. (The points mark) came up on my radar when I needed 50 points. That's when I knew about it.

"I'm just a complete basketball player. I dominate all facets of the game – rebounding, scoring, passing. I do a little bit of everything – defending. I'm not just a one-dimensional guy. It's just a testament to how I was brought up in the game, how people taught me the game. I just try to play the right way."