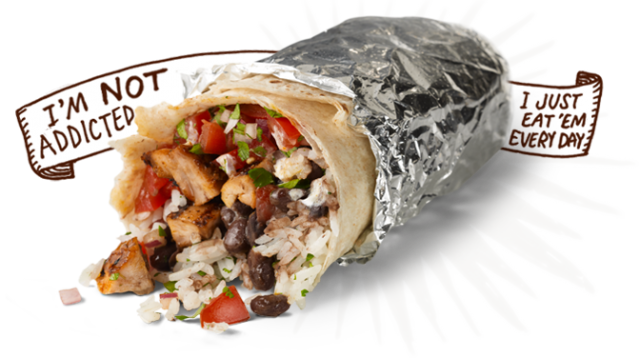 To celebrate 20 years of glorious existence, Chipotle is holding an "Adventurrito" contest, which begins this Sunday. Via Mashable:
Chipotle Mexican Grill turns 20 this Saturday. The popular food chain will celebrate its anniversary by kicking off a 20-day-long treasure hunt, "Adventurrito," that offers a 'burritoful' grand prize of 20 years of free burritos (approximate retail value: $9,100, in constant dollars.)

Every day at 10:20 p.m. ET for the first 19 days, Chipotle will release a trivia question on Adventurrito.com, and players will be entered to win free burritos for one year (that's one burrito a week for 52 weeks). Twenty winners will be chosen at random each day. On the twentieth day, Chipotle will release a final puzzle, and the first 20 players with the highest scores will be awarded free burritos until 2033.

According to Chipotle's press release, the puzzles will vary in level from easy to challenging, and will "incorporate Chipotle history as well as its commitment to better food from more sustainable sources."
Most people don't know that Mcdonalds owns half of Chipotle's stock.