Chief Keef Freed From Juvenile Detention Center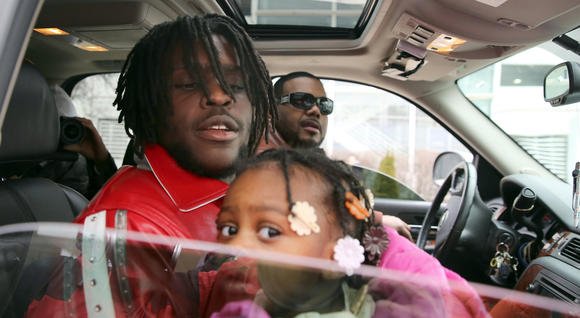 South Side rapper Chief Keef is a free man today after walking out of the Cook County Juvenile Temporary Detention Center in a red diamond-studded coat after completing his 60-day sentence for violating his probation for a gun conviction.
About two dozen family members and supporters greeted him on his exit, handing him his baby. An uncle carried a garbage bag full of notebooks – possible rap lyrics Chief Keef had written while locked up.
He declined comment before being driven off from the West Side facility.
The 17-year-old rap sensation was taken into custody on Jan. 15 after Judge Carl Anthony Walker, assigned to juvenile court, ruled Chief Keef violated his probation by firing a rifle at a gun range during an on-camera promotion for his music last summer.
Walker today ordered that the rapper, whose real name is Keith Cozart, be released from the detention center after completing the 60-day sentence.
Chief Keef was serving an 18-month probation following his conviction for pointing a gun at a Chicago police officer. He was prohibited from any contact with guns while on probation. Via CT