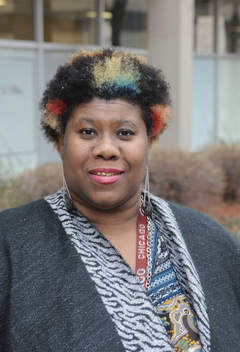 Talitha Funchess, 43, is being evicted from her subsidized apartment in the South Loop because her 20-year-old son appeared in a rap video.
Funchess has lived in the 2100 block of South Michigan building since 2009.
Last month she received a "Notice of Termination of Tenancy" from Metroplex Inc., notifying her that the lease was being terminated because her son, Kenneth Coffie, "appeared in a posted video using profanity, degrading language and flashing gang signs on the project grounds, in violation of Paragraphs 8 and 9" of the lease.
According to Paragraph 8 of Funchess' lease:
"Neither Tenant or any of Tenant's guests shall perform or permit any practice that may damage the reputation of or otherwise be injurious to the Building or neighborhood, or be disturbing to other tenants, or be illegal."
Paragraph 9 of the lease defines "unlawful" behavior as, including but not limited to the
"possession, use or sale of illegal drugs, and disturbances or acts of violence."
The Notice of Termination did not reference the rap video, but the video Coffie was in is
"Tatted Dre X Vic TTU Rite Nah."
It is unclear whether the video was shot in the building, but Funchess says her son is in the video. How the video came to management's attention is a mystery since it has only 632 views on YouTube.
"What they appear to be saying is that you can be evicted even if your son wasn't arrested,"
noted Michelle Gilbert, a supervising attorney at LAF, formerly known as the Legal Assistance Foundation.
LAF provides free legal assistance to low-income and elderly people in Chicago and the surrounding area and has agreed to represent Funchess.
"The reason that they want to evict her and actually filed a court case is because her son appears momentarily in a video where no one is committing a crime. We have three cases where people are being evicted because their sons have been in videos,"
Gilbert said.
"I think this is the most absurd of the cases. I think people have a right to make a bad rap video."
John Kennedy, vice president of operations for Metropolex, declined to discuss Funchess' specific case.
"We would look at the issue individually and not the mere fact that someone posted a video," he said in a brief telephone interview.
"All I mean is that every case is unique in and of itself to the extent that we issue any termination notice of violation."
A spokesman for CHA also declined to discuss Funchess' eviction, calling it a "confidential matter between tenant and landlord.
"At the present time, the participant is not in jeopardy of losing subsidy or of being terminated,"
said Matthew Aguilar in an email.
Because Coffie didn't shoot the video or engage in any illegal activity, it is difficult to understand why Metroplex is taking such an extreme legal action.
Further, Gilbert sees this as a First Amendment issue, especially since Funchess is a subsidized tenant.
"They can't just terminate a tenancy for no reason," she said. "This tenancy can only be terminated for cause. It is just speech in this video."
There's a steady barrage of the n-word, the b-word and the f-word. But Gilbert argues we have to protect speech that we find offensive.
"The First Amendment doesn't mean anything if it only protects speech that we don't find offensive. No one wants to get rid of nice speech,"
she said.
Although private investors own the South Loop building and most of the units rent at market rate, the owners have a contract with the Department of Housing and Urban Development that requires them to set aside a certain number of units for Section 8 renters.
Funchess believes the eviction is retaliation and harassment because in the past she has complained about how Section 8 renters were being treated by management.
"They are willing to throw me out in the middle of the cold," she said. "When the sheriff came out here, they thought I was being evicted because I wasn't paying my rent. They couldn't even believe this is over a video."

"There is a bigger issue here and we have several cases like this," Gilbert told me. "Right now the main goal is to save her housing." Source Suntimes
Obvious gang activity, drug use and possession being depicted in the video, not to mentioon the gun displayed and references to gun violence. Would anyone want this sort of behavior going on next door to them? The building ownners and managers have a duty and resposibility for the safety and security of the other tenants in the building and neighborhood. Codoning this behavior just enables it. I think Ms. Funchess should be alarmed that her son is part of this gang. Gang activity is reason enough to evict people from their free housing.
You are given lifetime free housing at the expense of honest hard-working taxpayers and you lose your opportunity over something like this. All you have to do is follow a few simple rules, and you can even pass on your free housing to your kids when they're grown up. There is a reason these people remain mired in poverty generation after generation, despite everything the government does to try to lift them out of poverty.
And I'll take a bet that the limosine liberal lawyer representing her would not want her to be her neighbor either.