Casting call for Stacey Dash & Lisa Raye VH1 show "Single Ladies" this Saturday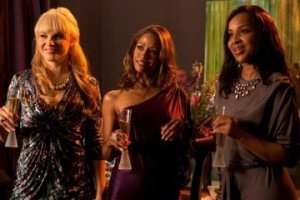 All the single ladies! All the single ladies!
The VH1 show "Single Ladies" needs lots of people to fill in the background of numerous scenes. There's an open casting call from 2 to 4 p.m. Saturday at Gwinnett Place Mall in the center court.
All positions are paid.
If you're interested, show up with two forms of I.D. You need to be 18 or older.
Here are some guidelines from casting director Bill Marinella, a 17-year industry veteran, who is working on this project:
– Very chic and trendy "30-somethings" with an upscale, polished look. (Feel to bring those Chanel bags, Dolce & Gabbana shoes, Prada sungla@$$@…you get the idea).

– Cool/ funky hairstyles

– Please come relaxed and dress your best to impress our wardrobe department.

– Don't wear red, white or busy prints or patterns. Choose navy grey, black, olive, tan, maroon, beige or charcoal instead.

– Dresses, spaghetti straps, and stylish jeans, tops with jewel tones and color.

– Please come in style. Simple jewelry is best, but have your hair and makeup camera ready.

– There's lenty of free parking. Please bring a pen and headshots if you have them.

– Please know your wardrobe sizes (height, waist, inseam, shoe, etc.).
"Single Ladies" is a comedy drama about Val (Stacey Dash), Keisha (LisaRaye McCoy), and April (Charity Shea), three best friends with different philosophies on se* and relationships. Val is an ambitious aspiring fashion mogul who wants to find a true partner. Keisha is a former video dancer just looking for a rich man to keep her in style. April has supposedly found the perfect man and the perfect marriage. "Single Ladies" is a modern, se*y series set in the world of Atlanta fashion, music, and celebrity that will constantly explore which woman has the right approach to relationships.
Casting folks will also have their eyes peeled for folks who might be suitable for background roles on other shows. That's an open casting call for "all looks" from 11 a.m. to 4 p.m. We can't say which shows, exactly, but can tell you that one is a legal drama and the other is about football. We can also tell you that Marinella has done casting for "Drop Dead Diva" and "Necessary Roughness." You figure it out!Source