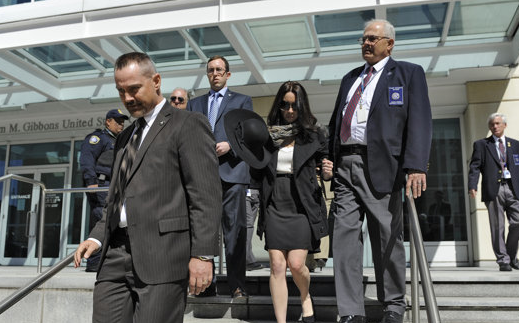 After being acquitted on all charges for the murder of her daughter Casey Anthony was back in Florida courts today take handle some more legal matters. The Central Florida resident who has done a good job of lying low revealed during her bankruptcy hearing that life has been tougher than she thought, Anthony says she is currently jobless, she does not own a car or her own place of living in fact she is living with friend relying on gift cards and cash just to get by
The 26 year old Anthony said "I guess you could say I'm living free off the kindness" of others, while in Tampa courtroom. All of the gift cards and donations she has received have been passed along to her from her legal team and have also given her over $3,000 in cash to help out with her living expenses. Anthony first filed a claim for bankruptcy back in January for about $1,000 in assets and close to $800,000 in liabilities.Anthony was pressed by  R. Scott Shuker who represents the woman Anthony said was at fault for her daughter missing had his doubts about the file stating
"From the smell test, it didn't smell right," he said. "Any time you see an attorney in what's supposed to be a no asset case being that active, more to the point, you had five attorneys there, allegedly none of them being paid, that's odd."
Her listed debts are as followed:
$500,000 for attorney fees and costs for Baez, her criminal defense lawyer during the trial; $145,660 for the Orange County Sheriff's office for investigative fees and costs; $68,540 for the Internal Revenue Service for taxes, interest and penalties; and $61,505 for the Florida Department of Law Enforcement for court costs.
10  armed U.S. Homeland Security officers were posted up outside to escort her to her vehicle safely.