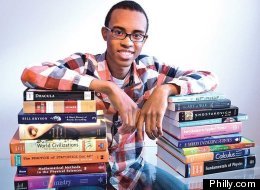 Cameron Clarke, an African American Philadelphia high school senior, distinguished himself, his parents, Germantown Academy, where is an "A" student, and the city: He was one of just 360 teens nationwide to earn a perfect score on the Scholastic Apti*ude Test (SAT).
Some 1.66 million students across America sat for the rigorous examination on which Clarke scored a perfect 2400.  Only one other Philadelphia area senior, an unidentified young woman, also earned a perfect score on the test this year.
Yet without Jenice Armstrong, an insightful Philadelphia Inquirer columnist, very little, if any, news about his extraordinary achievement would probably have reached many of the city's residents, much less a national audience.  Armstrong is African American and a widely respected writer.
Peter Clarke, Cameron's father, spoke of his extraordinary achievement in an interview with BlackAmericaWeb.com.  The elder Clarke, who said his son is very modest and humble,
"doesn't want to brag or boast."
Nevertheless, the elder Clarke said,
"he is the one who set all this in motion." Peter Clarke said he told his son, "I am very proud of you, but I am also very happy for you, because you did this on your own."
Mary Clarke, Cameron's mother, who is a Spanish professor at Father Judge Catholic School in Northeast Philadelphia, was not available for an interview. Peter Clarke manages The Jamaican Reef Restaurant and Lounge in South Philadelphia, in upscale Penn's Landing.
Cameron, said his father,
"really didn't want anyone to know about his score, so he didn't tell anyone at Germantown Academy about it when he got the result in June."  Armstrong received information about Cameron's achievement, his father said, "through happenstance."
On Monday afternoon, the elder Clarke said, he asked Cameron,
"How do you feel?" about the publicity he's received and Armstrong's column.  "Good and bad," Cameron replied, his father said, "because I really didn't want everyone to know."
Richard Schellhas, the headmaster of Germantown Academy's Upper School, in a brief interview described young Clarke as "an extraordinary young man who represents all the best things of his generation.  He is smart, funny and a true Renaissance man in the breath of his talent."
Cameron is the Philadelphia Youth Orchestra's first cellist, a member of Germantown Academy's Math Club, a math tutor, writes for the school newspaper and runs for its cross country team.
West Philadelphia Congressman Chaka Fattah, told BlackAmericaWeb.com that "Cameron Clarke is the rock star of academia."  A perfect SAT score, he said, "is an amazing achievement for any young person and that's certainly the case for this African American young man from Mount Airy."
The dictionary, he added,
"is the only place where 'success' comes before 'work' and Cameron Clarke is an example to young people in all Philadelphia schools, public and private, of what hard work can achieve."