Brandon Jennings Wants Kobe Bryant Banned From Drew League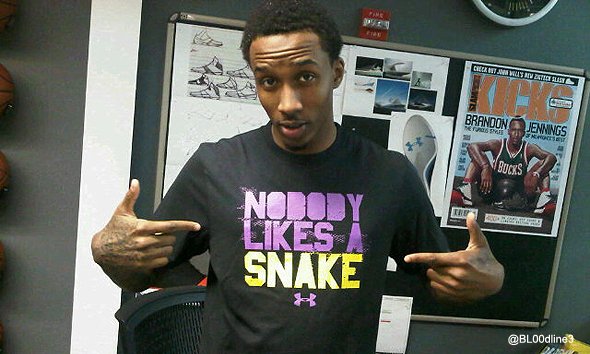 Just because he's been living in SoCal for the better part of 15 years and working in Downtown L.A. for a good portion of that time doesn't make Kobe Bryant L.A.
according to Brandon Jennings. Compton's finest took offense to Bryant being allowed to participate in the Drew League. Seems Jennings wants to keep the league closed to natives only.
"He wasn't born and raised in LA. You gotta be from LA to play for Drew. Show me a birth certificate."
Now I do feel where Jennings is coming from on this. In basketball where you're from is as much a source of pride as how well you play. Los Angeles City is one of the world's foremost hoops hotbeds. Thus having a highly competi*ive league for SoCal natives only is real testament to how much talent comes out of this area of the country.
Jennings first took offense when Bryant pulled off more of his Mamba magic by closing down the Drew League in style. This time he's looking to keep Kobe out of a possible rematch between the Drew and Goodman leagues. lakeshowlife.com
Kobe isn't from L.A but he earned the right to do what he wants in L.A at this point.