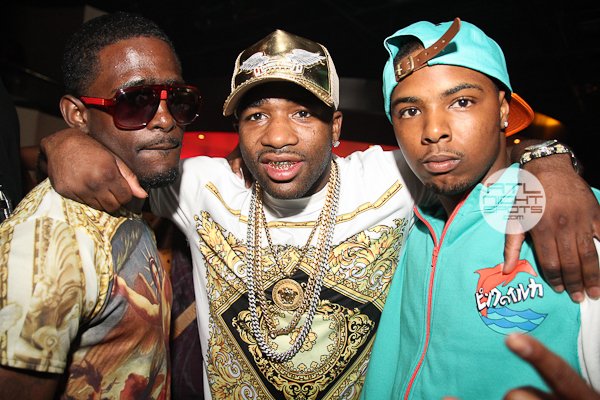 After the Welterweight champion Adrien Broner finished performing on the "America's Most Wanted" tour with Lil Wayne & T.I. he headed to Cream Lounge to turn up, turn up, turn up. Broner walked in the spot with around 20 people, took some pictures and then did what he does best.. entertained a crowd.

Broner told DJ Drama earlier on Shade 45 that he opens up the "America's Most Wanted" tour that he loves to perform in front of any sized crowed and I got to witness that first hand. Broner grabbed the mic and immediately let the ladies know "He is looking for the baddest b@#$% and he is willing to pay what ever".  The ladies in the crowd started roaring and that's when the crowd shifted to the VIP section and in front of Broner with their camera phones out.

Broner let the crowd know that the club didn't have 50k in ones and that he was still going to throw money. The Cincinatti kid let Atlanta know that it was his first time in a night club and it showed cause he was hype all night long. He reached in his pocket and pulled out $6,500 in crispy big face hundreds and told the crowd he wanted to see ti****. Broner then pointed out to women in the crowd below him that he was giving out $200 for them to show him their ti****. He later gave a woman a $1000 for being the only person in the club throwing money with him (which you can see in the video), and ripped up $100 dollar bills. After running threw nearly all his cash in his pocket he told the ladies to show him a picture of their children in their wallet for $100. A lot of ladies left out of Cream lounge with more then they came in with.
Mayweather JR. said that Broner is the future of boxing and that he reminds him of him when he was younger in the ring, but after he sees this video him might say that Broner reminds him of him self in the club.
S/O Urban Entertainment @FoeDiddy