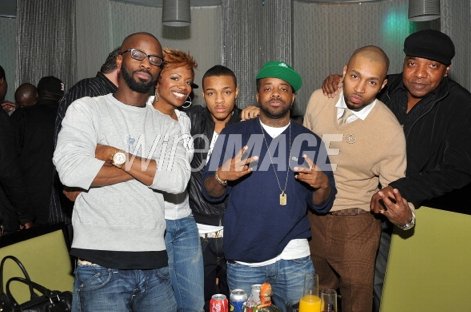 On February 23 at the Fox Theater in Atlanta Jermaine Dupri's So So Def Records is being honored in Atlanta for it's 20-Year Anniversary and their huge So So Def All-Star Anniversary Concert.
Apparently everyone will be in the building except one of the of the former members of the family, Kandi Burruss, who claimed to be too busy to attend.
Once Kandi exited the group Xscape she added songwriter, reality tv-star and se* toys to her resume of accomplishments.  She is also launching her Ladies Night tour the same night as the So So Def concert.
But Bow Wow, who now hosts BET's "106 & Park" felt that she should have penciled the So So Def Anniversary in….since it did put her on the map. He posted to Facebook,
"JD likes to keep quiet but… Yo Kandi is wack for not wanting to show up for jd for "20th anniversary so so def show" put ego to the side and give the fans what they want and understand w/ out jd know one would even know who you are. You aint Michael, this aint the Jackson 5. She act'n like she booked out like she too busy! Better yet dont come. The ones thats there are the ones who really got live for JD and the history if the label."
New Forum Posts:
Is This Chick's bu** Real Or Fake?
US banks shaken by biggest fund withdrawals since 9/11
Creep Files: Hulk Hogan tweets picture of daughter Brooke's legs
2pac's 1st Time Listening To Lil Wayne!