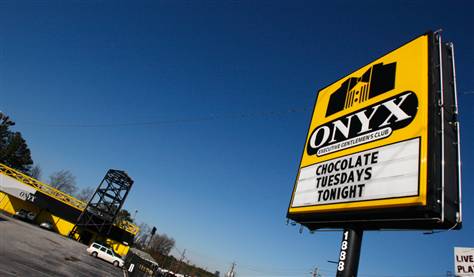 It's 2011 a new year which calls for all new reviews of all the most visited Atlanta clubs,lounges and strip clubs. We went to Onyx strip club on one of the most popular nights Saturday which from the outside you would of thought it was a night club with a artist performing based off the parking lot alone. It was $40 to park in front of the club,$20 on the curb and $10 across the street from the building and spaces were limited at 11:30.
The door charges was $10 dollars and when you walked in the building it was already packed to capacity full of men,women and about 50+ dancers. Depending on the week you can see some famous faces chillin' in there and every Saturday you will see some of the baddest strippers in the city dancing. If you ever been to Magic City strip club on a Monday night picture that 2x and that will describe Onyx. As picky as I am am when it comes to strippers I dance with physically off hand I couldn't remember any that looked like they weren't worth a $10 dance.
Speaking of lap dances like Magic City the girls will squeeze more dances out of you then got if you don't confirm with them that y'all are on the same page. Example after you hear the 3rd song you have to ask them this is the 3rd RIGHT? to get a clear understanding that you ain't slow and are paying attention or else after 7 dances she will try to tell you it was 9 with a atti*ude ready to make a big scene. This goes on a lot if they think your from out of town and ain't hip to this TRICK. It's so common the security is hip to it so don't think them calling security to help with y'all debate is going to end with you winning. With all that said I GOT GOT that night with a stripper I was trying to smash before she started dancing years back so I gave her a charity dance and let my guard down and didn't confirm with her I knew how to count to 10.
Other than that specific incident I enjoyed myself and so did my peoples I was in there with. I would recommend going to Onyx strip club Saturday night over all the other to do options that night. Shouts out to Big Kuntry King
I wanna hear your Onyx strip club experiences or feedback in the comment section and what clubs are you interested in me doing a review on next.