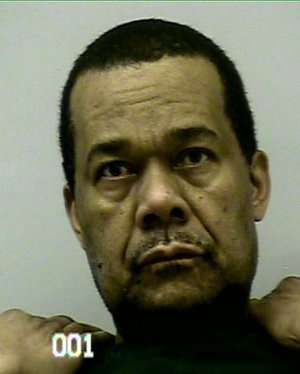 About $20,000 in bills from home shopping channels was the tipping point in a long-standing feud about finances, driving Egbert Courtney to kill his wife, a Gwinnett County detective testified Thursday.
Courtney — tall and lanky, 60 years old, a few days' worth of beard growing on his long face — sat next to his attorney Thursday morning, listening silently to the hour-long proceedings in front of a Gwinnett magistrate judge. He stared down at his green jumpsuit, moving a long thumb up and down and watching the muscles of his forearm shift as Detective Cole Crosby spoke about the events of March 1.
Sonia Courtney, 58, was shot twice in the back inside the master bathroom of the couple's Dacula home, the bullets from her husband's .38 revolver piercing her lung and spine. She was dead when police arrived shortly after 10 a.m., called to the two-story home on Kachina Trail by an already apologetic Egbert Courtney, the investigator said.
"(Courtney) told me that he was upset with (his wife) because she was spending a lot on items on the Home Shopping Network and other things like that he didn't think were necessary,"
Crosby said Thursday.
Finances were "pretty tight" in the Courtney household, Crosby testified, and the couple had reportedly been arguing about money for months. Online records show Courtney filed an affidavit of indigence with the courts, despite his home being valued at just over $186,000.
Egbert Courtney is a semi-retired bowling alley manager and his wife did not work.
It was unclear if any specific argument that morning led to the shooting, but Courtney confessed that "he just didn't know what came over him, but he got his gun out of his night stand and shot her twice," Crosby said.
Magistrate Judge Bob Mitchum found probable cause Thursday to bind charges of murder, aggravated assault and possession of a weapon during the commission of a crime over to Gwinnett County Superior Court. Bond was not considered.
Attorney LeAnne Chancey, who is defending Courtney, asked Crosby Thursday if there was any indication the homicide had been premeditated. Crosby, mentioning that the alleged murder weapon had been owned for about six years and the trigger argument had been ongoing for some time, said he wasn't sure.
"I don't really know how to answer that question for you exactly," he said, "but the circu*stances are what they are."
After allegedly shooting his wife that morning, an emotional Courtney called 911 to report doing so. When police arrived, he was waiting peacefully for them and detained without a struggle, authorities said.
Even before calling emergency dispatchers, though, Courtney reportedly called two other people: his wife's sister in New York and the couple's son, Kirk, in California. He spoke with the former and explained what happened, Crosby said. He left a simple voicemail for the latter.
"He told Kirk to call him about his mother,"
Crosby said. Via gwinnettdailypost.com