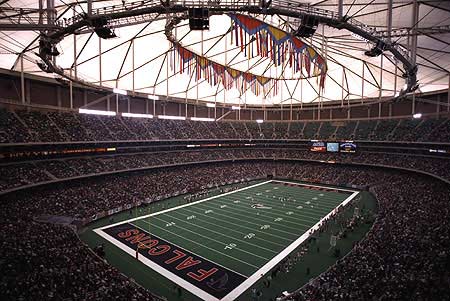 A Georgia state agency on Monday approved terms for a new $1 billion stadium for the Atlanta Falcons football team that would replace the Georgia Dome and would be partly financed by $300 million in revenue from a hotel tax according to Yahoo.
The Georgia World Congress Center Authority signed off on the plan, which will include new bonds backed by revenue from the city's hotel tax of 8 percent, said Jennifer LeMaster, a spokeswoman for the agency.
The bonds will likely be issued in about a year, she said.
The Falcons will pay the remainder of the cost of the new stadium, which will have a retractable roof and replace the Georgia Dome, which was completed in 1992.
The goal is to have the new stadium completed by the 2017 NFL season, LeMaster said.
The Falcons wanted an open-air stadium and more control over management of the facility, LeMaster explained. The primary purpose of the new stadium is to keep the Falcons in Atlanta, she said.
It is hoped that the new stadium, which could have a capacity of up to 80,000 fans, will also encourage the NFL to hold a Super Bowl in Atlanta, LeMaster said.
"We're interested in the deal because our lease with the team is up in about four years," she said. "We don't want our team to be free agents."
The deal is still contingent on the Georgia legislature increasing the bonding capacity of the World Congress Center Authority from its current $200 million to $300 million, LeMaster explained.
Via RasheedLateef