Atlanta Bride Surprises Husband With a Beyonce Routine at their Wedding (Video)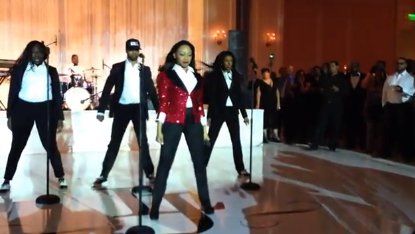 This Atlanta bride raised the bar in the world of viral wedding dance videos. Watch what happens when an bride surprises her groom with a se*y medley of Beyonce hits and an out-of-this-world performance he'll never forget – complete with backup dancers, a sequined jacket and a fan for her hair. Start this video at 0:52 seconds and then tell us if you love it as much as we do!
If his wife went through all that practice to make this happen, he wont have to worry about her being a boring non-spontaneous wife.
(Special thanks to fabulous Atlanta-based planner ellyB Events for sharing.)