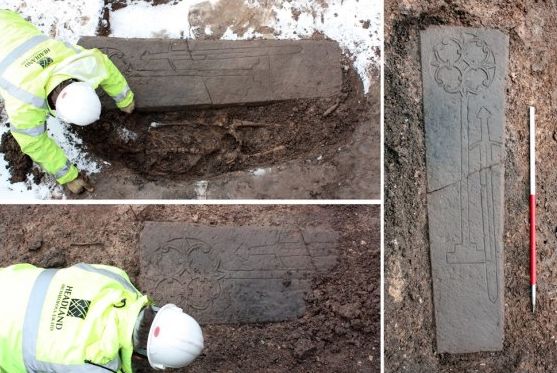 Here's something you don't hear about everyday, Archeologist working in Scottland said they have discovered the remains of a onetime medieval knight buried under a parking lot.
The Remains were first noticed by a group of construction workers working to fix some issues with the lot while digging spotted a sandstone slab with carvings with the addition of several other human remains which were described as burial plots. Archeologist believe the bodies discovered belonged to 13th-century Blackfriars Monastery. City council member Richard Lewis was excited about the discovery in his city stating:
"the potential to be one of the most significant and exciting archaeological discoveries in the city for many years, providing us with yet more clues as to what life was like in Medieval Edinburgh,"

"We hope to find out more about the person buried in the tomb once we remove the headstone and get to the remains underneath but our archaeologists have already dated the gravestone to the thirteenth century,"
The team is currently working on the remaining tasks of the excavation hoping to learn more about the subjects remains and believe that they have walked past many finding while studying at a nearby University. For more on the story you can continue the reading via UPI.