2011 Compound Saturday night club review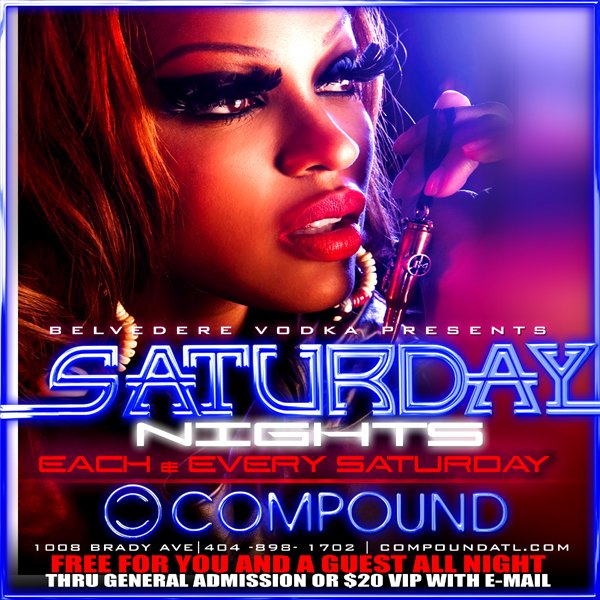 I admit we were slipping on our 2010 Atlanta night spots reviews but not this year. With the economy at a all time low and more people falling back from the night life that equals more people out of the loop from what's hot and what's not.
We give our readers a unbiased raw review on the most talked about night spots in Atlanta if you leave it up to the people throwing the party it's a movie,it's a zoo etc. etc. every night *smh*
Saturday night January 22nd we went to Compound with some of our folks from out of town and arrived around 11:30. The line was down the block as usual most likely due to the traditional ATL line holding technique to get every in after 12 leads to mo money..
If you circle around Compound before 1pm you can usually find a parking spot on one of the back blocks for free but you do risk your car getting broken into. One of the most popular crimes in Atlanta around down town Peters st. mid town night clubs and even Buckhead is thieves breaking in cars by popping the door handles. I got hit around 2 years ago downtown on Peters st. in the Uhual parking lot and to this day I still hear about people getting got.
We slide through the V.I.P line and I didn't hear what the cover charge was probably around $20 w/o a email pass..Shouts out to Simon.The inside of Compound is still closed why I don't know it was cold as sheeit out side that night but they had the tent up outside in the back half. I say the back half of the club was half full when we got inside around 11:30 there was probably the same amount of people inside as outside waiting to get in.
Moet was $250 and they weren't serving any bottles of Ciroc which was a surprise being it is the hottest liquor brand out right now. One of the 1st comments my peoples made about Compound was "This is the hottest spot in Atlanta?" with a frowny face. After a couple of drinks and the crowd began to fill out everyone was having fun. One thing about Compound verse a lot of other local night clubs they don't cut there liquor with cheap off brand liquor and they have nice bar tenders.
Looking around the crowd it was younger 21-30 yr old crowd there was a strict dress code no hats,athletic wear after a certain time they become lenient and depending who you are. To me it seemed like a lot of out of town people in the building that probably were listening to the radio advertisem**ts. Female wise there were probably a handful of women that I was feeling but keep in mind i'm picky as hell. It definitely wasn't one of those nights were your text'ing every one to come to the club cause it was going down. The x factor to the night was there wasn't a major celebrity hosting the club that night that I recall which usually brings out a whole different crowd.
Music wise they cater to the out of town crowd playing commercial music from all over the country stuff you would hear on the radio. If you were from out of town and wanted to hear nothing bout down south music I would advise you to go to Magic City,Strokers,Onyx or Kamal's 21 which are all a option on Saturday night. We left around 1:30 my peoples were pressed to stay any longer when I told them we could go to a strip club that's popping right now. So we ended up leaving and heading to Kamal's 21 I will go in on them next along with Onxy were I was at last night.
Overall I rate Compound 3 outa 5 stars.
If you been to Compound recently I would like to hear your thoughts???