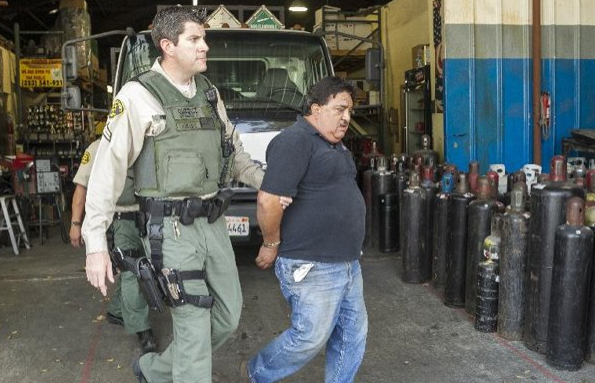 On Friday afternoon 17 different auto part businesses in the Southern California area found themselves under heavy fire as  law enforcement officers  raided their businesses for illegally selling nitrous oxide for use as a recreational drug.
The 17 shops that had been raided accounted for the nations largest raid covering Los Angeles,Orange &Riverside counties.The Valencia  brothers Edward and Frederico (51 & 58 along with Rose Marie Cuellar (20) were charged with misdemeanors of misbranding a drug in violation of the federal Food, Drug, and Cosmetic Act.
"I'm innocent. I haven't done anything wrong," Federico Valencia  "We only sell gases for cars."
The shop was raided once before back in '09 when the two brothers and owner spoke to the three about selling nitrous oxide which has been used as a party drug.This latest investigation has been going on for the past year and a half in which federal agents seized 367 tanks or 36,000 pounds of nitrous oxide with a street value of $20 million.
"Our investigation has revealed and uncovered evidence that many of these shops don't contain any auto supplies at all, just tanks of nitrous oxide," Andre Birotte Jr., U.S attorney for the Central District of California.
For more on this tory you can continue the reading here.