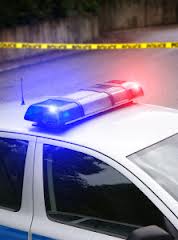 Whoop! Whoop! God damn that's a squad car.. "Oh that's just lil Mook".. Is what they were probably saying around the neighborhood.
A 13-year-old boy is holding police, a SWAT team and his family at bay in Atlanta after stealing an East Point Police traffic squad car this morning, police said.
The car was taken around 9 a.m., after an apparent accident near the corner of Oakland and Main streets, police said.
"One of our officers was running traffic on Main Street when a vehicle went by at a very high rate of speed," East Point Police spokesman Lt. Cliff Chandler told the AJC. "He followed until it crashed on Main at Astor in Atlanta."
The officer arrested the teen, and after an altercation that ended with the officer using a Taser to subdue the youth, placed the teen into the back of his Dodge Charger traffic patrol car, Chandler said.
"Somehow, the 13-year-old was able to get from back of car and into the front,"
he said.
The teen took the car. Police used the GPS device installed on the car to find it, and Atlanta police traced it to southwest Atlanta near Mozley Park on Martin Luther King, Jr. Drive.
Police put out an alert for the teen, and soon discovered that he had fled to his home nearby in the 1300 block of Gideons Drive.
"The kid barricaded himself inside his home," Chandler said.
But a SWAT team has been called to the house, and police negotiators are working with one of the teen's parents to talk him out of the home, according to reports.